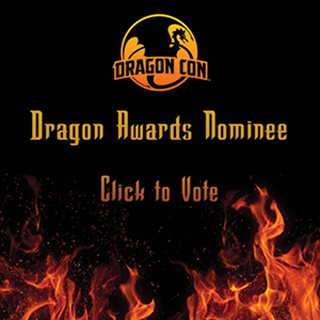 Something incredible has happened. Allies and Enemies: Exiles has been named a finalist for "Best Military Science Fiction or Fantasy Novel" for the 2017 Dragon Awards hosted by Dragon Con.
And you're totally behind this!
You might remember that last year, Allies and Enemies: Fallen, had also made to the short list in the same category in the inaugural year of the awards. I'm flattered and deeply honored to end up a finalist again. I'll be there to cheer on the winners at this year's Dragon Awards ceremony on Sunday, September 3rd during Dragon Con in steamy Atlanta, GA. It may also interest you to learn that I'll be on a panel at this year's con. (The info is tentative so I won't mention details just yet.) If you find yourself in Hotlanta this Labor Day holiday, drop by and say "hi". (That is if you can find me in the ginormous crowd!)
If you'd like a chance to vote and see the other categories and finalists, there's still time to register for a ballot. Click here to enter your info. The deadline is August 28th.
---
Why not join my email list if you're in a form-filing out mood? You can keep up to date on news and other cool announcements about the Allies and Enemies universe.
[contact-form][contact-field label='Name' type='name' required='1'/][contact-field label='Email' type='email' required='1'/][/contact-form]